How to maintain lightened or colored blond hair?
Illuminate your blond hair with treatments adapted to its needs. If your blond hair is natural, opt for radiance-boosting hair care that refreshes the color. If your hair is bleached, colored, highlighted or balayaged, treat it to lots of hair care treatments and protection. For the best results, opt for hair care treatments that have been specifically designed for blond hair: they will help you maintain the radiance of pure blond hair for longer.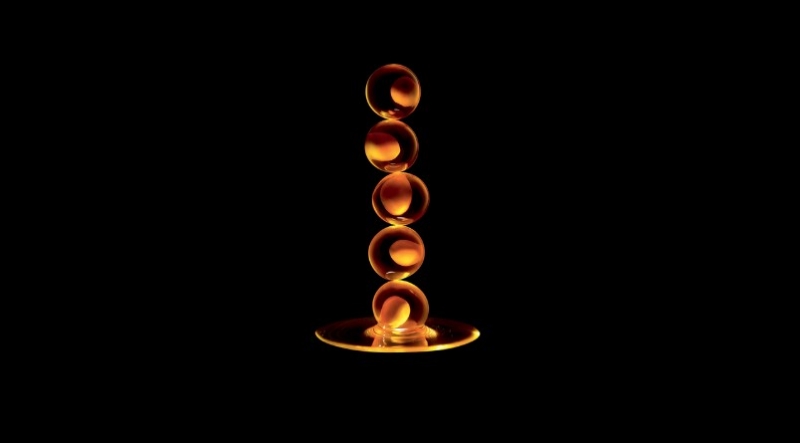 Why favor natural-origin ingredients to look after my natural, highlighted or color-treated blond hair?
After subjecting your hair to the
chemical assault of lightening treatments
, treat it kindly and harness the benefits of natural-origin key ingredients to repair the damage.
For the beauty and radiance of blond hair, René Furterer has selected natural-origin OKARA extract and the natural-origin key ingredient RefletLumièreTM.
Natural-origin OKARA
extract repairs and restructures hair. It has the advantage of containing the main amino acids that form hair keratin, the perfect composition for reconstructing hair deep down. It also contains the necessary lipids and sugars for rebuilding the hair fiber.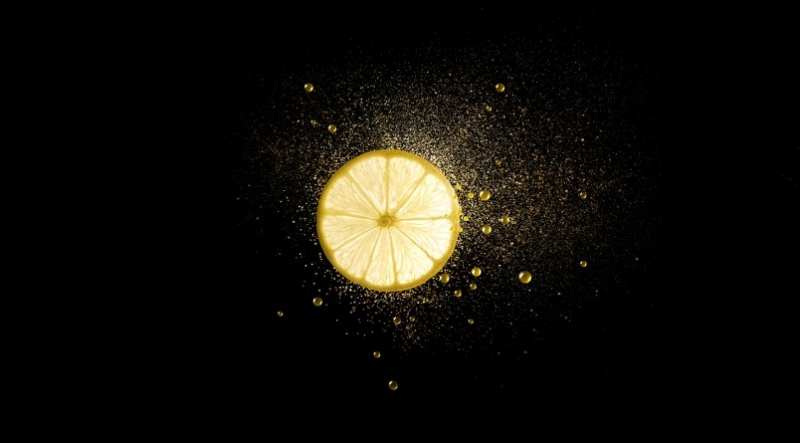 Natural-origin key ingredient RefletLumière™ brightens and enhances blond hair. It contains lemon peel extract and sugar cane extract which reseal the scales and make hair wonderfully shiny.

Conventional cosmetics have been the driving force behind the success of silicone: wherever there is silicone, there is irresistible softness. But under what conditions?

Silicone coats the surface, but doesn't treat: an inert substance, silicone doesn't provide any hair care benefits at all. Quite the opposite in fact, as its coating and occlusive properties result in the formation of an insulating layer that deprives the hair of the effectiveness of the key ingredients.

René Furterer prefers silicone-free formulas: because silicone only has a surface action, but does not treat the hair at all, René Furterer opts for silicone-free formulas that are rich in 100% natural-origin key ingredients.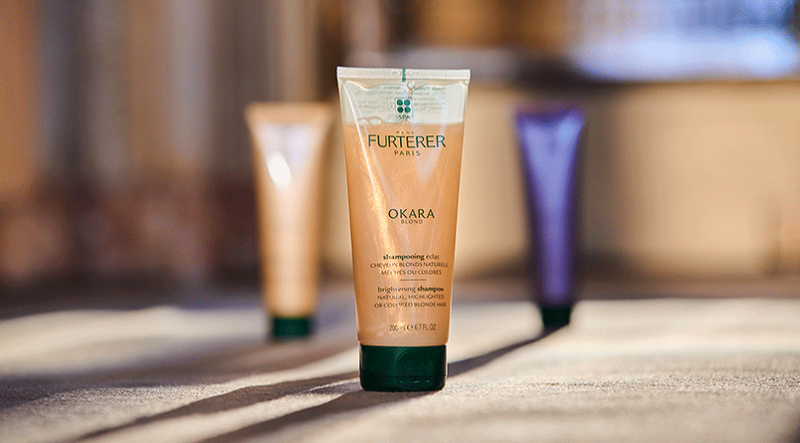 Which shampoo should I use for blond hair?
Choosing a blond-boosting shampoo: to reduce the impact of water and washing which will make your color fade, discover the shampoo that has slipped a ray of sunlight into its formula!
OKARA BLOND brightening shampoo
Enhances blond highlights 90%
Radiant hair 92 %
Gently cleanses 97%
* consumer test – % satisfaction – 69 women – 8 weeks
Natural-origin key ingredient RefletLumièreTM is activated in a light, shimmering foam. It brightens hair for a very natural sun-kissed effect. The secret to shine, the citric acid that it contains, illuminates blond hair.
A silicone-free formula with a very soft cleansing base and an acid pH, this shampoo gently cleanses and takes care to reseal the hair's scales to optimize shine.
Tip! Alternate with
NATURIA dry shampoo
by René Furterer: it cleanses hair without wetting it.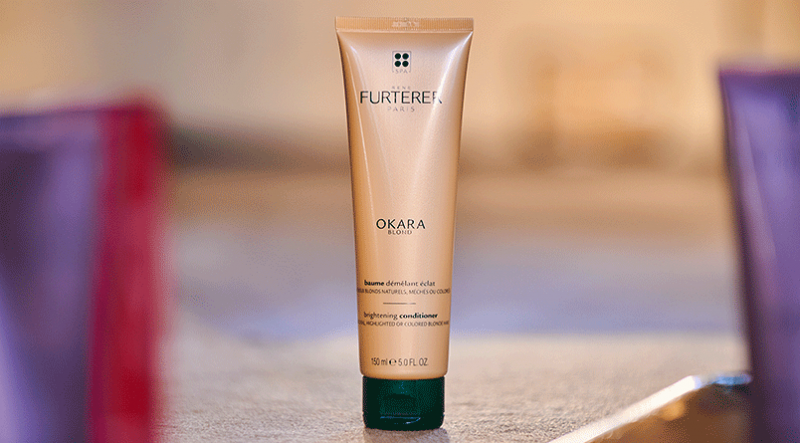 Which conditioner should I use for blond hair?
Fighting against the "straw" effect: as golden as corn, but often as dry as straw, you hair always seems to
lack softness and radiance
. To revive blond shades and enhance highlights, this "burst of radiance" conditioner is effective even with no leave-in time.
OKARA BLOND brightening conditioner
No leave-in time for hair that is 100% soft to touch. The formula of this amazing
silicone-free conditioner
contains natural-origin Okara extract, the favorite key ingredient of the hair fiber, which helps to recreate hair structure with its amino acids, which are identical to those found in keratin. And softness is restored.
In terms of radiance, this conditioner is enriched with natural-origin RefletLumièreTM extract, which is just what is needed to brighten and naturally lighten hair. Blondness is restored and the radiance of highlights is enhanced.
* consumer test - % satisfaction, 76 women - immediate result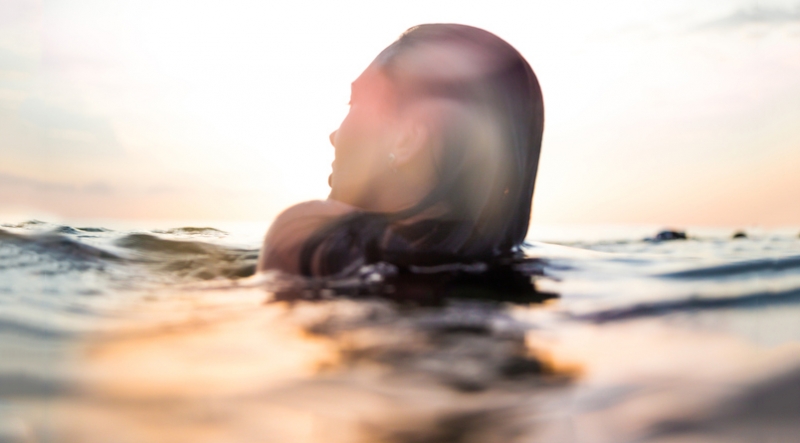 Which hair care product can I use for natural, highlighted or colored blond hair?
In the sun, protect your blond hair.
In the summer, blond hair is exposed to all kinds of dangers: UV rays, salt, chlorine, wind... All these stress factors attack the hair's protective hydrolipidic film and take the shine off blond shades.
To create a UV barrier and protect hair in the water,
SOLAIRE KPF 50 protective summer oil
by René Furterer is incomparable.
In just a few spritzes, its non-greasy texture with ultimate sensory appeal provides intense nourishment and a superb glossy, wet-look finish. Its irresistibly delicious and sunny fragrance creates an instant feeling of being on vacation. Silicone-free, it protects and respects blond hair.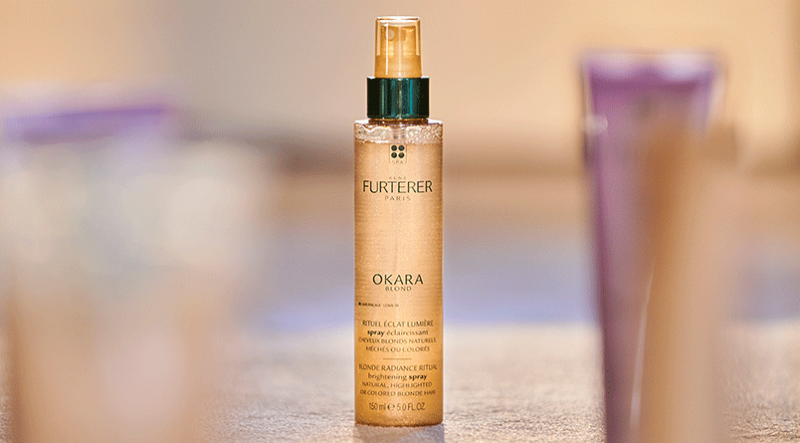 How can I recreate my summertime blond highlights?
Recreate the "sun-bleached" effect
We would all love to be able to keep our summer highlights, so delightfully perfect, all year round!
So what if all it takes is a spray that makes it possible to create that summery sun-bleached hair effect at will?
OKARA BLOND brightening spray
Convenient and effective, this spray
naturally brightens blond hair
and makes it possible to progressively lighten it by a tone*. By opting for natural-origin key ingredients, its formula is silicone-free and protects the hair fiber without damaging it. Instead, natural-origin key ingredient RefletLumière™ brightens and enhances blond hair.
Its formula contains lemon peel extract and sugar cane extract which reseal the scales and make hair wonderfully shiny for naturally dazzling blond hair. A highly concentrated and leave-in formula, this spray is very quick to apply: a few spritzes are all it takes for summer to make a welcome return in your hair!
* consumer test - % satisfaction - 80 women - result after 4 weeks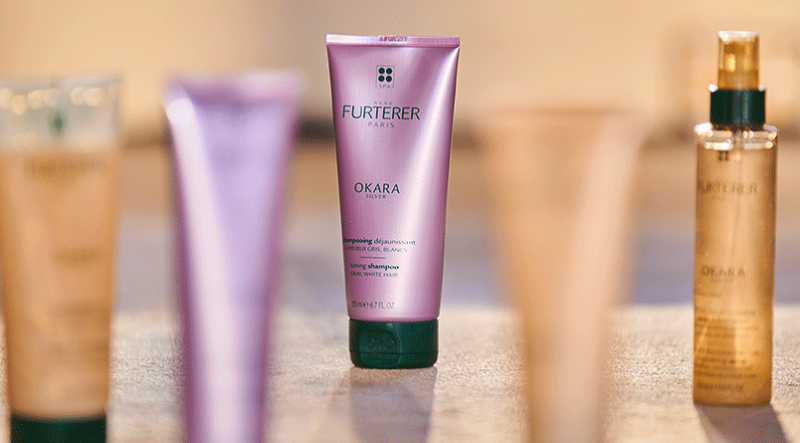 How to neutralize the enemies of blond hair?
Choose your shampoo with care
To reduce the effects of hard water which dulls blond hair, opt for a shine-boosting shampoo such as
OKARA BLOND brightening shampoo
. Its Reflet Lumière formula contains citric acid and
revives blond radiance
.
Apply sun protection
We have the most delicious protective armor against the wind, sun and sea, all of which
dry out color-treated hair
:
KPF 50 + protective summer oil by René Furterer
. Sensual and effective in just one spritz!
Banish unwanted yellow tones
The nightmare of the chlorine in the pool with its annoying tendency to make blond hair "turn." To neutralize unwanted tones and reclaim pure blond hair, don't hesitate to seek the help of
OKARA SILVER toning shampoo
which
neutralizes unwanted yellow tones
through its corrective violet pigments.